Click on an image to see full page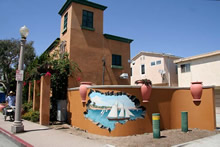 Balboa Sailing Mural
13 x 7 ft., acrylic, Aug., 2015
Balboa, Newport Beach CA
Balboa Sailing Mural

This mural is a striking illusion of a hole in the wall of this building in downtown Balboa Village, and through the hole passersby can see a view of Newport Harbor on a beautiful day, with sailboats out in the channel heading for the open ocean. Balboa Village is on the peninsula that forms the Newport Harbor and is a beautiful beach town with many attractions for visitors and residents alike.





The mural is a reminder of the joys of living and relaxing in Balboa and being a part of this beach- and ocean-loving community. Landscaping was installed in front of the mural after these photos were taken.