Click on an image to see full page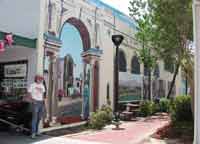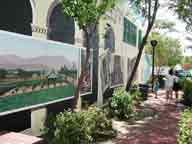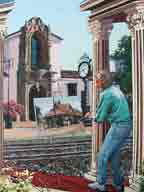 Claremont Village Mural

This mural is painted in the walkway between two buildings in the Village of Claremont, CA, next to the Claremont Colleges. It depicts architecture from some of the buildings on the College campuses as a backdrop for the history of the community.

Originally begun as a citrus-growing community, Claremont soon became home to the expanding family of Claremont Colleges, and today this lively community is a beautiful and charming college town.

The mural depicts a series of historical images arrayed against the backdrop of the campus architecture.


The view through the arch at the left end of the mural is of the local train station, itself a historical landmark. Inside the arch, Art shows himself painting on a canvas depicting the original train station, built when the town was founded.