Click on an image to see full page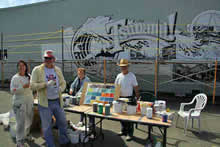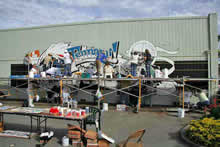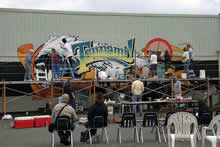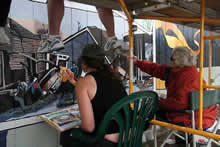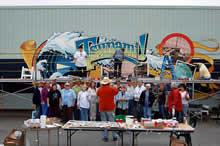 Tsunami Mural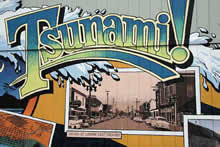 This mural was painted in one day on June 21, 2008, in Crescent City, CA. Art spent the previous week preparing- laying out the design on the wall and pre-mixing all the colors needed for the mural. Then on Paint Day a group of local volunteer artists started early in the morning; they painted all day, and by the end of the day the mural was complete.



On March 28, 1964, in the middle of the night, Crescent City was struck by 4 successive tsunami waves generated by a magnitude 8.1 earthquake near Anchorage, Alaska. Much of the harbor facilities and much of the original downtown of Crescent City were wiped out.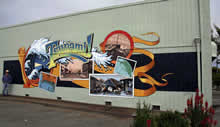 This mural commemorates that event and is painted on a building located not far from the harbor, in the area of town that was badly damaged by the tsunami. The mural includes maps showing the origin of the waves and the extent of the damage wreaked by the tsunami. These maps were taken from newspaper articles about the disaster published just after it occurred. Also included are images of the town both before and after the tsunami hit, as well as Crescent City's well known Battery Point Lighthouse.

Tsunami Mural
(Mural-In-A-Day)
13 x 40 ft., acrylic, June 2008
Crescent City, CA