Click on an image to see full page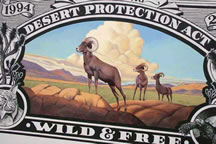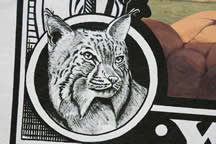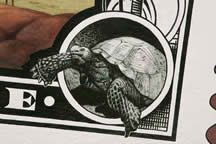 California Desert Protection Act
11 x 20.5 ft., acrylic, Nov. 2014
Twentynine Palms, CA
California Desert Protection Act Mural

This mural was painted to celebrate the 20th anniversary of the creation of California Desert Protection Act, This Federal act, signed into law in 1994, changed Joshua Tree National Monument (which is adjacent to Twentynine Palms) and Death Valley National Monument into National Parks. It also created the Mojave Desert Preserve and 69 additional wilderness areas in California.

The mural is a collaboration between Art and Twentynine Palms artist Chuck Caplinger. It is designed to resemble a U.S. commemorative postage stamp, thereby commemorating the 20th anniversary of the signing of the Act. The mural features Desert Bighorn Sheep, a Desert Bobcat, and a Desert Tortoise-animals living in nearby Joshua Tree National Park whose security and range are enhanced by the creation of the National Park.