Click on an image to see full page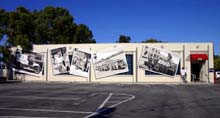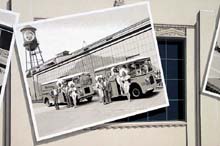 Helms Truck History
15 x 83 ft., acrylic, Aug. 2004
Los Angeles, California
Helms Truck History


In the first part of the 20th century, Helms Bakeries ran a fleet of special delivery trucks all over Los Angeles County, carrying freshly baked goods to customers everywhere. Their trucks and drivers were fixtures in their communities. In the 1960's the company went out of business, but the large Art Deco style buildings housing the bakery on the border between Los Angeles and Culver City still exist.
| | |
| --- | --- |
| These buildings are now home to a wide range of retail businesses and offices, while still retaining the character and many of the prominent signs and other landmarks of the original Helms Bakery operation. This mural, on a blank wall of a newly-constructed addition to the property, shows painted trompe l'oeil architecture echoing the architecture of the surrounding original buildings. | |
Overlaid on the painted architecture are paintings of a series of sepia-toned photographs depicting historical images of the Helms trucks and drivers. The red awning, echoing awnings on other nearby buildings, is part of the illusion.