Click on an image to see full page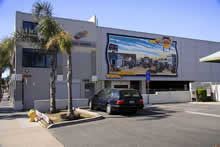 . . .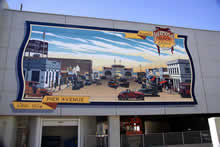 . . .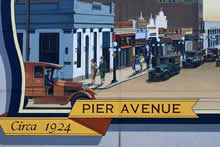 Pier Ave. 1924 Mural
acrylic on concrete, April 2011
Hermosa Beach, California

Pier Ave. 1924 Mural

This mural is in Hermosa Beach, CA on the side of a large public parking structure in the heart of downtown Hermosa Beach, less than 1 block from the beach. It is the first of several historical murals planned by the local Murals Program. The mural depicts a view of Pier Avenue, which is about 1 block from the mural, looking along its last block as it runs down to the Hermosa Beach Pier – as it looked in 1924.
Many of the buildings depicted in the mural still exist, and we have identified as many of the businesses as possible. The mural is based on old, black and white photographs and the descriptions and stories of local residents. And it is colorized to resemble old hand-tinted postcards of the era.


. . .