Click on an image to see full page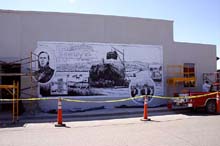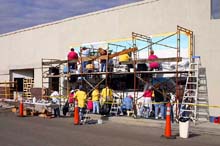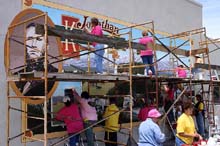 Jonathan Keeney Mural

This Mural-In-A-Day was painted in Vale, Oregon on June 3, 2006. Vale is a small town in Eastern Oregon on the Oregon Trail. They have many murals depicting the history of the Oregon Trail.
The subject of the mural is Jonathan Keeney. He was a pioneer, leading wagon trains along the Oregon Trail, who fought in the Indian Wars, built the first living structure in Vale, established the first ferry across the Snake River, and settled down on a homestead just north of Vale. He raised cattle on his homestead, drove them to the Mormon Basin, and




sold them for gold. Shortly after returning home to Vale he was found shot by his own revolver; the gold was never found. He was buried in a cemetery near his homestead, where his gravestone can still be seen.