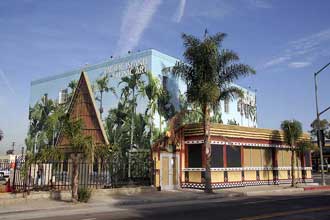 Art has recently completed (Sept. 2009) this mural for the new Pacific Island Ethnic Art Museum in Long Beach, CA. In these photos, taken when the mural was finished, the Museum itself is not finished on the inside; and they are still landscaping the small, private park adjacent to the building that is to hold some of the large, outdoor pieces. They hope to open early in 2010.
The mural wraps completely around all four sides of an existing 2-story building that is being converted into the Museum. The mural is essentially a panorama of semi-abstract palm trees as found in Micronesia. Overlaying this on some parts of the building are examples of traditional Micronesian architecture.
The building is on a triangular island in the middle of a busy intersection where three streets come together. As such, the building itself is an island surrounded on all sides by city traffic, and the mural presents itself as a tranquil island of palm trees in the midst of this non-stop hustle and bustle.