Click on an image to see full page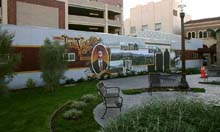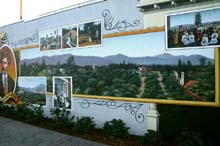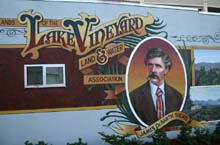 James DeBarth Shorb Mural
13.5 x 105 feet, acrylic
Dec. 2003, Alhambra, CA
James DeBarth Shorb Mural


This mural honors James DeBarth Shorb, one of the founders of Alhambra. He and his father in law, Don Benito Wilson, were the first developers of what are now the communities of Alhambra, San Marino, and South Pasadena. Mr. Shorb also designed and installed the first water system in Alhambra, allowing farming to start and homes to be built.
| | |
| --- | --- |
| The mural is on the side of a building in downtown Alhambra that is the new home of the present-day Alhambra Utilities Division. The Utilities Division is the descendant of the original water company started by Mr. Shorb. They put in a small park and fountain next to their new building and commissioned this mural to honor him and his contributions to the City of Alhambra. | |
The mural features a portrait of Mr. Shorb and illustrates some of his accomplishments and scenes from his life.