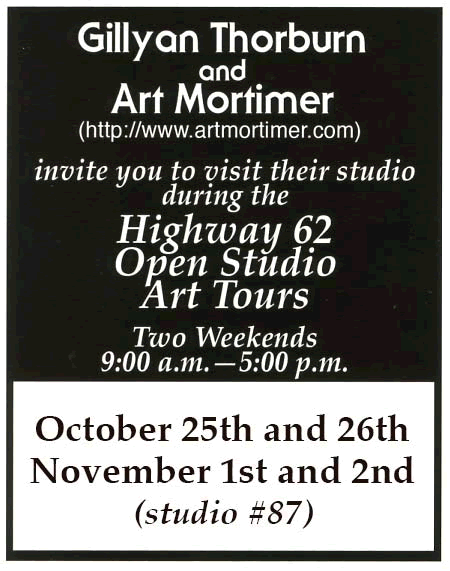 br>
HIGHWAY 62 ART TOURS, 2014
in Twentynine Palms and Other Morongo Basin High Desert Communities
Over 200 artists are featured in the 13th annual HWY 62 Art Tours Oct. 25-26 and Nov. 1-2, 2014. One of the largest open studio art tours in the nation, Hwy 62 Art Tours showcases the best of the high desert's visual and performing arts throughout the Joshua Tree Gateway Communities adjacent to Joshua Tree National Park.
The highlight of Hwy 62 Art Tours is a free, self-guided tour of 130+ open art studios, shops, and galleries throughout the hi-desert, located along and adjacent to the scenic Hwy 62 (just off I-10 above Palm Springs).
A celebration of all the arts, Hwy 62 Art Tours showcases the talents of a variety of the high desert's visual, musical and performing artists. The days and evenings are filled with live music, theatre, poetry, performances, and special arts events throughout both weekends, giving art lovers the opportunity to experience the full spectrum of arts in the Morongo Basin.
Now in its 13th year, Hwy 62 Art Tours has grown to be a destination event. Based on artist surveys and guest sign-in sheets, Hwy 62 Art Tours brings an estimated 8,000 visitors annually, coming from all areas of California, and as far away as Chicago and New York. Hwy 62 Art Tours also boasts a strong local following in a close-knit community dedicated to supporting its local art scene.
Large, full-color programs listing all participating artists, with maps, driving directions, and photos of their work, are available for free at locations in all the participating communities.
Visit hwy62arttours.org/hwy62arttours.html for artist profiles, special events, and more information.